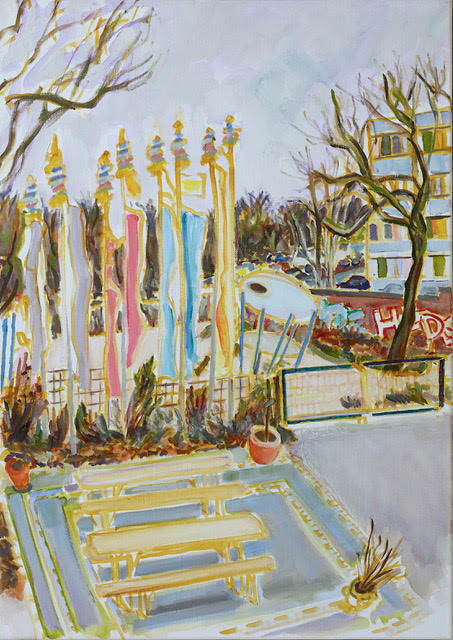 remember you are dreaming
paintings 1998, 2022 – 2023 
13 October 2023 – 5 January 2024
Since 2006 it has primarily been the rough, vast, luminescent landscape of the plateau de Larzac in southern France, in which the traditional Tibetan Buddhist monastery of Lerab Ling came into being. In this place Dorothea Breick completed a Three-Year-Retreat under the guidance of Sogyal Rinpoche and has since spent a large part of her time with the study and practice of the Buddhist wisdom-teachings. Since 2020 she spends the winter months in the Rigpa city center Dharma Mati as part of the resident community.
This exhibition will include for the first time early works completed before 2006, as well as those from recent years — paintings from Lerab Ling and Berlin 2022 and 2023.
The painting – as a mirror, seemingly incidentally, almost randomly, sensually, vibrantly; one to one in silent dialogue with it's counterpart, before the forming of any concept – arises by itself.
opening of the exhibition: Friday 13 Oktober 17.00 to 19.00
Location:
Dharma Mati  
Rigpa Zentrum Berlin 
Soorstr. 85  
D 14050 Berlin
www.rigpa.de
viewing by appointment, please contact: +49 151 46 46 41 52
opening hours: Monday to Friday, 12.00 to 15.00